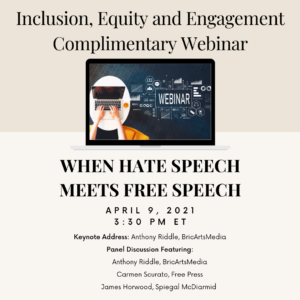 Friday, April 9, 2021 • 12:30 p.m. Pacific / 3:30 p.m. Eastern
Community media has always been a bastion of free speech, but what happens when that speech targets or threatens others? Join community media professionals from across the country for an informative and timely webinar which asks the question: is there speech that is not worthy of protection? Our society's views on what is acceptable speech is quickly evolving, but does community media need to evolve with it?
The webinar will feature Anthony Riddle, Senior Vice President of Community Media at BRIC in Brooklyn, NY, as the keynote speaker. Anthony has a long history of working with community media in Atlanta, Minneapolis, and New York. Prior to BRIC, he worked with the Maysles Institute, the Pacifica Foundation, the Funding Exchange, and the Alliance for Community Media – where he is a lifetime member and has served on the Board of Directors and as Executive Director.
After the keynote, there will be a panel discussion featuring Carmen Scurato from Free Press, and James Horwood from Spiegel & McDiarmid. A question and answer session will follow the panel.
Register for this free webinar at allcommunitymedia.org/ieewebinar.