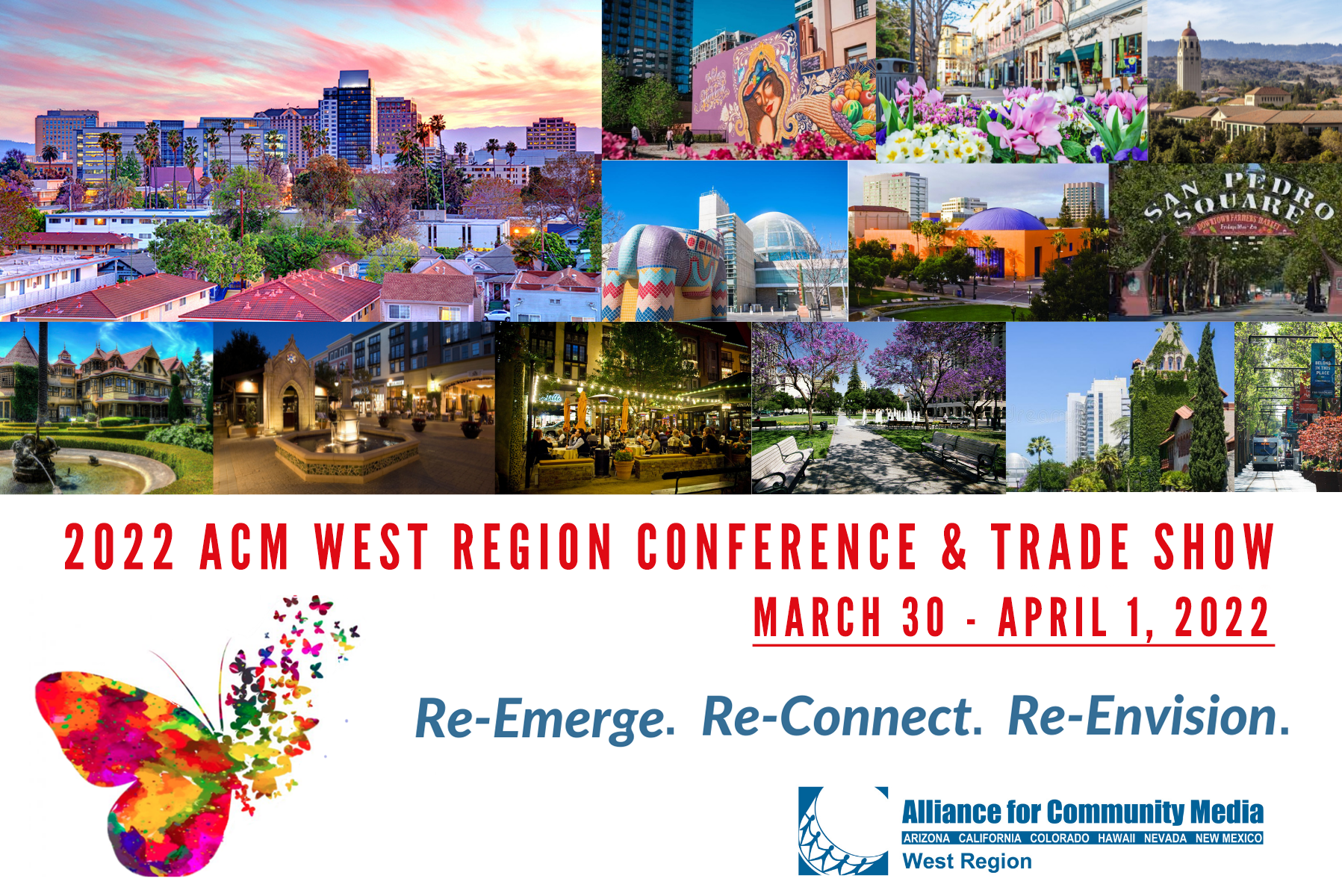 You are invited to join leaders from Community Media Centers, PEG access facilities, local government departments, educational institutions, community organizations, and equipment and media vendors at the ACM West Region Conference and Trade Show. Attend informational workshops, see the latest equipment/media resources at the trade show, and network with community media professionals and vendors.
Want to save money on your registration?  Become a member of the Alliance for Community Media! Find out how to become a member. We're also extending our member rates to our friends in NATOA.
CONFERENCE QUICK SCHEDULE (view the full schedule)
Wednesday, March 30: In-depth seminar. Opening reception at MidPen Media Center.
Thursday, March 31: Trade show, plenary, workshops. Social event near CreaTV San Jose.
Friday, April 1: Trade show, plenary, workshops, and WAVE Awards Ceremony.
Click here to view our full list of workshops, plenaries, and speakers.
CONFERENCE HOTEL BOOKING
Holiday Inn San Jose – Silicon Valley
1350 North 1st Street San Jose, California 95112
The conference will take place at the beautiful Holiday Inn San Jose – Silicon Valley. Click here to book at our discounted conference rate.
CONFERENCE TICKET TYPES
Full Conference Pass: includes all conference events, meals, and a ticket to the WAVE Awards Ceremony. Special offer for groups of 4. Discounted pricing for ACM and NATAO members ends March 7th.
Pre-Conference Ticket: includes the pre-conference in-depth seminar held on Wednesday afternoon. Please note this is not included in a full conference pass and must be purchased separately if you wish to attend. $50.00.
WAVE Awards Ticket: only includes entry to the WAVE Award Ceremony on Friday night. $50.00.
Vendor Hall Only Pass: you'll have access to the vendor/exhibitor hall, but no meals, no workshops, no other conference events. Free.
ACM West COVID-19 Safety Policy
ACM West will follow the CDC guidance in effect at the time of the conference for the duration of the event. All attendees, speakers, and exhibitors must be vaccinated or show proof of a negative test within 24 hours (completed a two-dose vaccine Pfizer or Moderna series or received a single-dose J&J vaccine at least 14 days prior to the start of the Conference; booster shots for those eligible are strongly encouraged). Proof of vaccination or negative test will be required upon conference check-in (must be a physical or electronic copy of a CDC vaccination record card or a physical or electronic copy of a health record showing the date of vaccination, vaccine manufacturer, your name, and the vaccine provider). Without vaccination or negative test proof, entry and participation will be denied. Masks will be required to be worn at all times in public spaces as well. Compliance is required as a condition of attendance. Those who cannot meet this policy and who registered prior to January 16, 2022 may request a refund.
Conference Program